Clayton Jipping, Of Counsel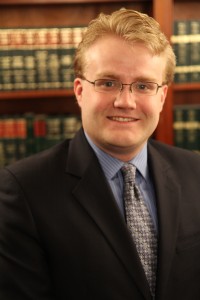 Clayton is one of Edward Allen's founding partners. Prior to his undergraduate education, he served on the board of a non-profit serving Michigan, Indiana, and Ohio, and largely supported himself as an independent contractor offering a number of services to multiple business clients.
Clayton's natural legal acumen and talents quickly made themselves apparent in law school, where he graduated Magna Cum Laude. He rapidly rose to be President of Mock Trial, an Editor on Law Review, and represented the law school on a number of national competition teams. Additionally, he was a teachers assistant in over a dozen courses and served as a student law clerk for the Honorable Judge Robert Holmes Bell of the Federal District Court of the Western District of Michigan.
Clayton's natural legal mind and his studies of the law and logic bring fresh perspective to the needs of Edward Allen's clients. His skills help Edward Allen ensure that their client's rights are protected whether through creative contracting on the onset of a transaction, by finding alternative solutions to disputes should a transaction starts to break down, or in the courtroom as justice requires.
Professional Activities
American Bar Association
Michigan State Bar
North Carolina State Bar
Bar Admissions
State Bar of Michigan
United States District Court for the Eastern District of Michigan
State Bar of North Carolina
Education
University of Memphis; Memphis, Tennessee
B.A. in Philosophy, with a focus on Logical Thought
Thomas M Cooley Law School; Grand Rapids, MichiganJ.D, Magna Cum Laude; Litigation concentration
Student Law Clerk for Hon. Robert Holmes Bell; U.S. District Court for the Western District of MichiganTeacher's Assistant: Family Law, Michigan No-Fault Auto Insurance, Employment Law, Estate Planning, Administrative Law, Securities Law, Business Planning, Taxation of Business Entities, Advanced Corporate Transactions, Corporate Governance and Finance, Corporate Taxation, International Business Law, Licensing of Intellectual PropertyPresident of Mock Trial, Editor for Law Review, Regional Semifinalist for National Client Counseling Team, Negotiations National Team Member